Azamara is the cruise line for people who "don't cruise"
If you've ever said, "I'm not a cruiser," that's exactly why you'll appreciate an itinerary crafted by Azamara Club Cruises. Now is a great time to discover this brand, because you'll get up to $3,000 to save or spend- a promotion you can combine with our exclusive Virtuoso Voyages perks, like a complimentary shore excursion.
Here are five signs you might just fall in love with Azamara:
You like other brands similar to Azamara
If you're drawn to brands with destination immersion (like Abercrombie & Kent, for example), look no further than Azamara for your first cruise. The biggest difference is that you get to see more diverse destinations in less time, without unpacking more than once on your boutique hotel at sea.
You actually love land more than cruising
Your time is best spent soaking in every travel experience possible, not shuttling from point A to B on a run-of-the-mill, milk run voyage. Azamara sails to hundreds of unique destinations, where you're taken far beyond the ordinary with plenty of choices for local excursions that stir your imagination and leave a lasting impression.
You want to go deeper and further into each destination
Azamara's shore excursions are aimed to have you eating, exploring, and living like a local no matter where you go- without the worry of navigating unfamiliar places and busy tourist sites. They've coined the term, "Cruise Global, Connect Local(SM)," because that's exactly what you get: onshore experiences that deliver authentic local connections. And with their in-depth knowledge of every port's highlights and unique offerings, you're in very good hands.
You know destinations come alive at night
When you're in the midst of some of the most dazzling cities, renowned UNESCO World Heritage sites, and "I can't believe we're here!" hidden gems on Earth, the last thing you want to do is rush back to the ship for a 4:00 p.m. departure (or 5:00 p.m., if you're lucky). Azamara has overnight stays so you can live like a local in multiple cities. In fact, with more late departures and overnight stays than other cruise lines, you'll see destinations come to life after dark and experience exciting cities in a whole new light.
You want an intimate sailing experience
You're not going to feel like you're sailing aboard a small city with Azamara. But even better, their intimate, club-like ships can fit in smaller ports bigger vessels can't visit, so you'll get to experience destinations that aren't even on the map for other cruises. These 690-guest club-like ships enjoy scenic rivers and waterways that are off-limits to big cruise lines, and sail to the doorstep of great cities like Bangkok and Hong Kong. Cruise to the city center of Bordeaux, the heart of Seville, and within a short walk to Hong Kong's buzzing nightlife. Now that's a richer travel experience.
Ready to take the plunge? Great news. We have exclusive perks for Azamara in addition their current "Save or Spend" promotion:
Save up to $3,000 on a sailing or save it to spend at shore or onboard:
Interior/Oceanview Stateroom: $1,000 USD savings per stateroom ($500 per person)
Club Veranda Stateroom: $2,000 USD savings per stateroom
Suites: $3,000 USD savings per stateroom
This applies to over 93 select itineraries around the world sailing between October 2018 and November 2019, booked by May 31, 2018. Need some inspiration? We hand selected three of these cruises that feature (exclusively through us) a free shore excursion or $300 in shipboard credits per couple ($150/pp) aboard the brand new Azamara Pursuit.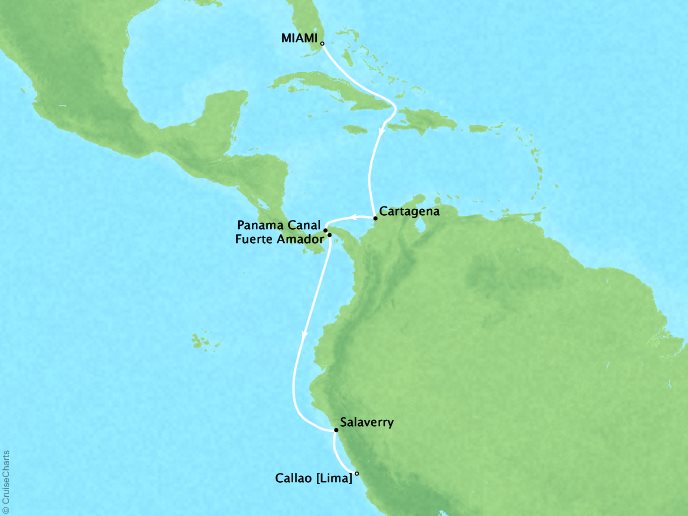 14 Nights
November 20, 2018
Start: Miami, FL
End: Lima, Peru
$3,599/per person (before offer)
7 Nights
April 13, 2019
Start: Barcelona, Spain
End: Monte Carlo, Monaco
$1,999/per person (before offer)
Dalmation Coast to Athens
9 Nights
June 10, 2019
Start: Venice, Italy
End: Piraeus, Greece
$3,399/per person (before offer)
Bonus Perk: Because April is Travel Agent Appreciation Month, and Azamara loves their professional travel advisors, they are letting us give you additional onboard spending money for select itineraries:
Oceanview Stateroom: $150 per stateroom
Veranda: $200 per stateroom
Suites: $250 per stateroom
World Owner's Suites, Ocean Suites, and Spa Suites: $300 per stateroom
How nice is that? Exclusive perks, passed straight to you.